About the Artist
A quote from the artist: "One of the greatest joys within my life is knowing that my paintings are being used for a higher purpose and that they bring delight to my collectors. So many folks who have purchased my art over the years have shared with me that my paintings have given them immense happiness. To create art that brings others joy as well as to aid in the conservation of endangered species has been an amazing journey! I am so very thankful for this God given talent and for the opportunity to pursue a career that I absolutely adore."

Gloria Clifford, has for a lifetime had a special love for the ocean and tropical habitats. As a professional painter, she uses a brilliant color palette which completely captures the attention of her audience. Gloria does this purposely to get an urgent message of conservation across to her viewers. She feels that artists have an immense responsibility to visually share the beauty which is abundantly upon this planet and she does this with a unique style which is entirely her own.

As a SEASONED LICENSED ARTIST, Gloria Clifford's brilliantly colored images are available not only as original paintings and fine art reproductions, but now also upon products within local retail shops. Her creative images and artistic talent has been quickly spreading across the globe within the Home Decor Industry. FOR LICENSING OFFERINGS PLEASE CONTACT THE ARTIST.

GLORIA'S NEWEST BUSINESS VENTURE is the creation of her very own ISLAND ART BRAND and PRODUCT LINE...These new products are coming to the marketplace as a unique new way to showcase her designs for further conservation awareness. You may see some of these products now on this website by going to the PRODUCTS TAB above. Be looking for more of Gloria's designs to become available within stores soon as HOME DECOR PRODUCTS! Gloria's colorful art as a line of products for the home will be seen under the copyrighted name, "GLORIA CLIFFORD ISLAND DESIGNS"....aka "GC Island Designs".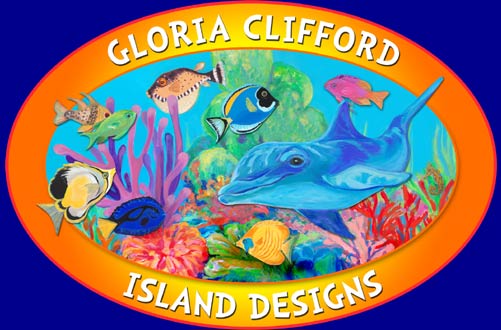 REPRESENTATION
Gloria Clifford's beautiful artwork has been shown in numerous professional galleries as well as within National competitions along the Eastern Coast of the U. S. for well over thirty years. The artist's work is extensively collected by tropical art lovers within the United States and in Europe. There will be further updates as to her NEW!!!!!! gallery representation .....coming soon!

If you are interested in COMMISSIONS or to purchase an ORIGINAL by this artist, please contact her through the email contact form BELOW .
Contact the Artist
Please feel free to contact the artist with any inquiries or to purchase one of her ORIGINAL paintings. To purchase all other products or reproductions of Gloria's art, click on the items you wish to purchase and payment instructions will follow. International shipping costs DO NOT APPLY to prices which are posted on this website. For international shipping, please contact the artist for shipping costs.

Please use the form below to contact the artist by email. Thank you!
Gloria Clifford Tropical Island Art
Gloria Clifford Island Designs
Sebastian, Florida 32958
(804)514-7716

© 2004 - 2016 Copyright Gloria W. Clifford All Rights Reserved
All images/paintings on this website are fully protected under International Copyright Law
Copying images from this website without the permission of the artist is considered copyright infringement.